AZ Powder Coating
AZ custom powder coaters
Sorted by City
Section 8 Powder Coating
We are proud to bring powder coating, exhaust coating, firearm coating and hydrographic services to the East Valley of Phoenix, Arizona.
5346 S. Desert View Drive, Bldg. 10
Apache Junction, AZ 85220
Phone:(480) 734-8372
Glendale Powder Coating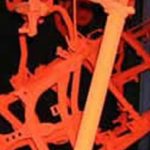 The top provider of professional powder coating in Glendale and beyond. Powder coating is our main focus.
6051 N 56th Avenue
Glendale, AZ 85301
Phone: (623) 937-5557
Finney's Plastic & Powder Coating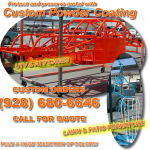 The largest production powder coating shop in Mohave County, AZ.
1960 Commander Drive
Lake Havasu, AZ 86403
Phone – 928-680-6646
Fax – 928-680-1935
Dry Heat Powder Coating
Custom Powder Coating and Designs. Application of high heat powders & Cerakote ceramic coatings.
1621 Cottonwood Lane
Mohave Valley, AZ 86440
Phone: (928) 768-2005
Fax: (928) 768-2005
Affordable Powder Coating & Affordable Extreme Coatings
Applying superior finishes since 1980
2111 W. Fillmore
Phoenix, AZ 85009
Phone: (602) 272-7646
Apex Customs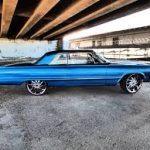 Phoenix Arizona automotive powder coating services from wheels and trim to engine and suspension parts. We are Automotive powder coating experts, we specialize in all things custom automotive so we know exactly what we're doing when it comes to powder coating vehicle parts.
1945 East Jefferson Street
Phoenix, AZ 85034
Phone: (480) 331-3924
Controlled Coatings, Inc.
Custom powder coating in Phoenix
1801 W Rose Garden Lane, #6
Phoenix, AZ 85027
Phone: (623) 780-1214
Desert Powder Coating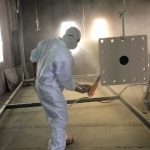 We offer powder coating types in a multitude of attractive colors and use only industrial-grade types of powder coating.
Phoenix. AZ 85049
Phone: (602) 253-7875
Fax: (602) 253-7860
Industrial Powder Coating, Inc.
Wrought Iron Furniture
3736 S. 7th Ave.
Phoenix, AZ 85041
Phone: (602) 268-8777
Perma-Finish, Inc.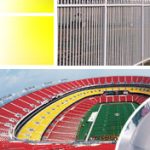 Applicators of high performance powder coatings in high volume and specializing in large production runs for manufacturers of consumer products, automotive, architectural, clean rooms, construction, residential, commercial, electronic cabinetry.
74 N. 45th Ave.
Phoenix, AZ 85043
Phone: (602) 278-1733
Powder Coat Phoenix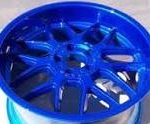 Offering a full range of powder coating and sandblasting services to the greater Phoenix area. From car wheels to commercial railings and everything in between, we will blast, coat and bake your metal components with skilled precision and industry leading turn around time.
1945 E Jefferson Street
Phoenix, AZ 85034
Phone:  (480) 331-3924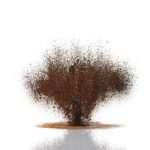 Southwest Powder Coatings
Proudly serving metal manufacturers for over twenty years.
116 N. 59th Ave.
Phoenix, AZ 85043
Phone: (602) 272-0878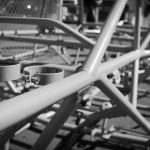 Xpress Metal Cleaning
Locally owned and operated in Phoeniz, Arizona. We're experts in paint, grease, rust and corrosion removal off any metal surface.  No job too small for us.
3402 Wier Avenue
Phoenix, AZ 85040
Phone: (602) 628-7306
Beebe's Custom Powder Coating
Powder coating in Taylor, Arizona
418 S. 200 W.
Taylor, AZ 85939
Phone: (928) 243-0904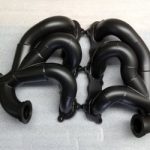 AZ Custom Coatings
Specializes in PTFE fluoropolymer coatings, high performance engine coatings and powder coating applications.
5869 S Kyrene Road #3
Tempe, AZ 85283
Phone: (480) 201-7279
Gorilla Industrial Coatings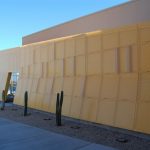 Family owned and operated since 2002 we have been fulfilling custom coating needs for a variety of industries. We do blasting and stripping services, conveyorized and batch powder coating in our 25,000 ft facility plus other services.
2605 S Industrial Park Avenue
Tempe, AZ 85282
Phone: (480) 377-8000
Anderson Painting Company
Serving the Arizona Commercial and Industrial coatings market for 48 years.
6210 South Country Club Road
Tucson, AZ 85706
Phone: (520) 792-0751
Perfection Industrial Finishing, LLC.

MIL-Spec: MIL-PRF-24712, MIL-PRF-32348, quick turn around on small orders, high volume production, thermoset/thermoplastic powder coating, high temperature coatings, potable water coatings, multi coat applications, FDA/Antimicrobial, Anti-Graffiti.
1155 E. Palmdale Street
Tucson, AZ 85714
Phone: (520) 434-9090
Powder Tech II Custom Powder Coating
and high temp ceramic coating in Yuma, AZ
2489 E 14th Street, Ste. A
Yuma, AZ 85365
Phone: (928) 344-9104

Arizona Powder Coating