Custom Powder Coater Certification
PCI 3000 Custom Powder Coater Certification 
Certification Celebration!

Get your powder coating company officially certified by PCI and save 20% on Initial Onsite Audit fee if you act before Dec 15, 2018!
Are you considering becoming PCI Certified? If so, now is the time!
To celebrate the launch of our updated program we are offering a 20% discount off the initial onsite audit fee. To be eligible companies must:
Be new applicants to the program
Pay the onsite audit fee by December 15, 2018
Schedule their onsite audit by December 15, 2018 (audit can take place in 2019 – preferably Quarter 1)
Contact us now! PCI Powder Coating Certification Programs
The Powder Coating Institute began certifying custom coaters in 2009.  The PCI 3000 certification process uses a comprehensive audit to differentiate the capability to produce quality work from one job shop to the next.  PCI® is re-launching this process at the end of the first quarter of 2014. The program is designed to:
* Help differentiate a certified custom coater from all other custom coaters.
* Use the PCI® world renowned logo and benefit from the high standards this image brings  to elevate the marketability of the custom coater.
* Create a methodology to improve and enhance a custom coater's process and results.
* Help build the business of certified coaters through aggressive marketing to OEMs who require a certifie coater.
*Ultimately elevate the overall performance of powder coating in the industry.
In a nutshell, the certification is the auditing process that elevates the busines practices, process elements, equipment capabilities, employee competences and quality control capabilities of a coater to produce a
high quality powder coated product with a hgih degree of customer satisfaction.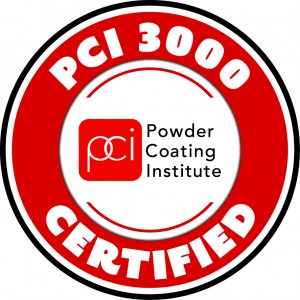 Get your powder coating company officially certified by PCI
The PCI 3000 cerification program is designed and offfered to all custom coaters applying powder coatings and is not exclusively designed for PCI® member companies.  However, member companies will qualify for substantial program discounts.
Download details of the PCI 3000 audit process. (pdf)
Like other certifications, including ISO 9000, it does not determine the quality of the powder coated product that willbe produced; it certifies that the coater has the capabilities to product a high quality powder coated product.
The program offers standards to consistently rate powder coating processes focused on 12 main areas:
pretreament, ovens and curing, application area, quality control, training, maintenance, customer satisfaction, safety, process control, quoting and warranty policies, incoming quality control, and loading, unloading and packaging.
All PCI audits for certification are performed at the custom coater's site.  The audits are usually 1-2 full days and generally follow the typical agenda:  management meeting and discovery process, plant tour and visual evaluation, interviews and discussion with key personnel, review of record keeping, logs and audit; system and process evaluation in plant to include all facets of the powder coating process; and a closing meeting with management,  The scoring of the audit will be delivered to the custom coaters within two weeks.
Once the custom coater has achieved PCI 3000 certification, they will be allowed to use the approved PCI 3000 logo to promote their qualification.  Additionally, they are listed on PCI's website and in Powder Coated Tough as a Certified Applicator and gain the ability to quote jobs that require PCI certification.
For more information on how to become a certified custom powder coater, please follow THIS LINK.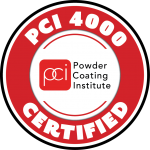 PCO has launched it's certification programs for powder coaters, now adding a new 4000 level certification for original equipment manufacturers (OEMs).
Read about it on Powdercoatingonline.com.
Custom Coater Certification