North Carolina Powder Coating
NC Custom Powder Coaters
Technicoat Corporation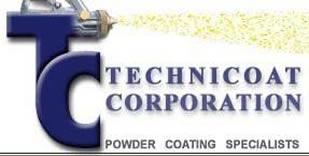 1669 Cooper St.
Durham, NC 27703
Phone: 919-596-1422
Fax: 919-596-9892
Email:  phil@technicoat.org
Website:  www.technicoat.org

Since 1985 we have had one mindset:  Do one thing and do it well.
We are the powder coating specialists.
We offer additional value added services such as media blasting, light assembly, special masking, custom packaging, direct shipment to your customers, and much more.
Give us a call today!
NC Powder Coaters


Sorted by city
Matlab, Inc.
1112 NC Highway 49 South
Asheboro, NC 27203
Phone: (336) 629-4161
Fax: (336) 626-3595
PowderTek
191 Lyman Street
Asheville, NC 28801
Phone: (828) 279-2117
Fax: (828) 225-3270
Superior Powder Coating LLC
P.O. Box 783
Astonia, NC 28120
Phone: (704) 869-0004
Fax: (704) 853-2519
Carolina Custom Powder Coating
104E Woodwinds Industrial Ct.
Cary, NC 27511
Phone: (919) 460-9600
Fax: (919) 460-9680
Cardinal Industrial Finishers
7403 N Tryon Street
Charlotte, NC 28213
Phone: (704) 596-0926
Fax: (704)-596-8182
King Powder & Welding
8620 Wilkinson Blvd.
Charlotte, NC 28214
Phone: (704) 394-0157
Fax: (704) 394-0173
Technacolor
2492 Payseur Lane
Cherryville, NC 28021
Phone: (704) 300-8479
Fax: (704) 435-2175
MetalMasters, Inc.
704 N Fayetteville Avenue
Dunn, NC 28334
Phone (910) 891-1478
Fax: (910) 891-1480
Carolina Custom Coatings
100 Crosswinds Circle
Goldsboro, NC 27530
Phone: (919) 432-4919
SmartTek , Inc.
2616 Greengate Drive
Greensboro, NC 27404
Phone: (336) 370-3330
Unique Coatings, Inc.
309 New Street
High Point, NC 27260
Phone: (336) 841-1811
Fax: (336) 841-1800
TNC Powder Coating
1191 Onslow Pines Road
Jacksonville, NC 28540
Phone: (910) 381-0749
DJ Powder Coating LLC
232 – A Industrial Way Drive
Kernersville , NC 27284
Phone: (336) 310-4725
Mid-Atlantic Fab & Finishing
205 Forest Drive
Knightdale, NC 27545
Phone: (919) 217-6170
Fax: (919) 217-6080
J&S Racing & Performance
1078A Hwy. 64
Manteo, NC 27954
Phone: (252) 473-5214
Fax: (252) 473-5005
Drake Coatings
2627A Executive Point Drive
Monroe, NC 28110
Phone: (704) 289-7200
H.M.Elliott Custom Precision Coatings
387 Pit Road
Mooresville, NC 28115
Phone: (704) 663-8226
Fax: (704) 663-8231
Race City Powder Coating
388 E Plaza Drive
Mooresville, NC 28115
Phone: (704) 799-0291
Fax: (704) 799-3244
North Carolina Custom Powder Coaters